What to Look For: Illinois
This weekend, the Roadrunners will travel up to Illinois for their first game and major test of this season. UTSA is bringing a high powered offense complimented by an impressive experienced defense. But it wont be a walk in the park, as the Fighting Illini will be ready to welcome them with a few weapons of their own that are cause for concern.
This is what UTSA should be on the lookout for.
Momentum
Illinois will be coming into this week's game with something valuable that UTSA doesn't.
A win.
An impressive win over Nebraska and ready to continue that this week. Something that should be worth mentioning is that Illinois win over Nebraska was trending this past weekend. However, the narrative was more so the collapses of Nebraska, and not so much a focus on the talent produced by the Fighting Illini. 30 points, 34:55 TOP, and an impressive forced fumble recovery returned for a massive touchdown. Sure, Nebraska made some tremendous mistakes. But they didn't shoot themselves in their whole foot, just a toe. Their mistakes weren't unfixable. Nebraska couldn't come back because Illinois controlled the time they had with the ball, therefore controlling the game. If I was Illinois Bret Bielema, I'd be livid that major publications were crediting the win on the downfall of Nebraska and not the skill of Illinois.
They will be welcoming UTSA with a chip on their shoulders, energy, and eagerness to get win number 2.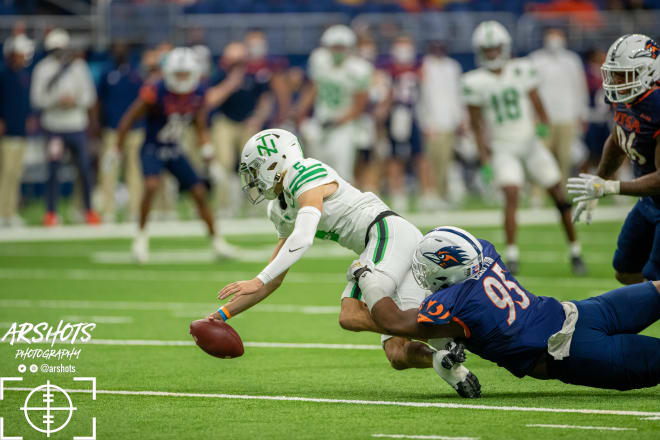 Illinois Can Stop the Run
Nebraska's Adrian Martinez carried a bulk of their rushing yards ending up with a total of 121 yards against the Illinois defense. If you take his one big play away (a 43-yard run) then he only scrambles up with only 78 rushing yards. Adrian Martinez has averaged about 135 yards per game his whole collegiate career. Let that sink in.
I think UTSA's star Sincere McCormick is more of a threat at this point, but Illinois defense will still pose a challenge.
Recognition
I think that UTSA is more dangerous than Nebraska at this point and I am sure Head Coach Bret Bielema sees this as well.
Illinois came out swinging last week and made a statement against a team that is supposed to have been great, and they proved to the nation Nebraska's sauce wasn't that great. Now they intend to do the same UTSA, who comes off a 7-5 winning season.
Illinois easily recognizes that if they want to be 2-0, they have to give their respect when prepping for the Roadrunners to sweat it out and grab a well-earned W.