Predictions: Arizona/UTSA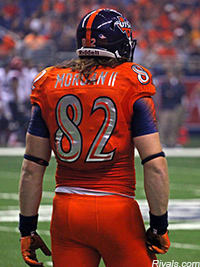 The wait is over. After months of anticipation, UTSA begins its season on the road as a heavy underdog to Arizona. We've done breakdowns throughout the week and now it is time for predictions.
Javi Cardenas
Arizona 34, UTSA 21
It feels good doesn't it? UTSA football is finally back and not a minute too soon. UTSA faces a very tough challenge in Arizona though. The fighting RichRods are ranked #22 in the nation and look to get off to a fast start versus a young UTSA squad.
This will be the first time we see UTSA's new offense in live action. Unfortunately, it will be against a good Arizona defense. My concern with this up-tempo offense is the quick three-and-outs. If UTSA does not get going early, this game could get ugly early. The last thing you want to do is give this Arizona offense extra possessions. The only chance UTSA has at winning this game is to have the offense move the ball. Might sound simple, but breaking in a new offense versus a PAC-12 defense in no easy task. If UTSA can get the ball moving they will need to take advantage on Arizona's lack of experience and, to a certain extent, size at the corner position. Arizona is playing a true freshman and a wide receiver turned cornerback to start the game. UTSA will need to use its weapons out wide to take advantage. Again, this does not matter if UTSA can't move the ball efficiently. Kerry Thomas and JaBryce Taylor are in line to have big games if the ball starts rolling for UTSA.
Defensively, UTSA has a long list of concerns. It starts with Arizona's QB Anu Solomon. Reports out of camp are that he is improved significantly from last year. Running back Nick Wilson is also back bigger and better. Wilson did a number on UTSA last year as a true freshman. UTSA will need to force Arizona into third and longs. Force Solomon to make though throws against this more athletic defense. If UTSA can put Neill, Davenport, and Strong in pass rushing situations there is a good chance they will be able to get to the quarterback with Arizona's offensive line struggles.
In the end, I just don't think UTSA is there yet. If they played this game towards the end of the season I think UTSA might have been able to give Arizona a good run for their money. As is, I don't think the Roadrunners have it in them to pull off the upset.
Jared Kalmus of Underdogdynasty.com
Arizona 34, UTSA 21
Neal Neathery's defense has traditionally played pretty well, fundamentally speaking, against Arizona over the past two years. Rich Rodriguez's offenses are always tricky so one mental mistake can lead to six points really quickly. I think we'll see a similar defensive performance as last year, especially considering the new faces in the UTSA secondary.
I'm picking a 34-21 result but I don't think the game will actually feel that close. UTSA will probably tag on a late touchdown that makes the score look respectable.
Perhaps it's me being overly optimistic but I think this new UTSA offense and its speedy receivers could really take advantage of Arizona's unproven cornerbacks. Sammy Morrison and DaVonte' Neal are gifted athletes but even the swiftest of cornerbacks will have trouble recovering against the receiver whenever they're left flat-footed by a precise cut or surprised by a double move.
My biggest concern is UTSA's rebuilt offensive line's ability to pick up the blitz against a 3-3-5 look. Austin Pratt has JUCO experience at center but he wasn't working at that position for the majority of the fall. He'll be responsible for reading the front six pre-snap and calling out protections. If the line is able to hold up when Arizona sends four or five guys then Bogenschutz will have a great opportunity to create big plays. On the other hand, if the offense moves fast enough then they'll force Arizona's defense to play base the majority of the time, giving Bogie easy looks.
Mike Craven
Arizona 45, UTSA 17
The spread is 31 points and Vegas is usually smarter than all of us combined. Arizona is a horrible matchup for the Roadrunners and it isn't even because of the talent disparity. The Wildcats have a superstar at running back and a quarterback who can make plays with his feet on designed runs or when the play breaks down. They also scheme really well on defense. Arizona uses a three-man front, but brings more than three people nearly every play. That means new center Austin Pratt, a guy who arrved on UTSA campus this summer, is in charge of making protection calls against the most complex defense he'll see this season. The Roadrunners struggled in blitz pick up against their own team this spring and through the fall.
The Roadrunners are also using a new offense for the first time and there are bound to be rhythm and consistency issues that go along with that. It is true that UTSA has some advantages against Arizona cornerbacks, but giving quarterback Blake Bogenschutz enough time to deliver the ball, and the wide receivers enough time to run developed routes, will be a tough task for a new and patch-worked offensive line. I have a hard time believing the running game will keep UTSA in the game.
I see this as a game that stays close in the first quarter before Arizona slowly and methodically pulls away and proves why it is one of the contenders for a Pac-12 South Division crown. There is simply too much talent on the other side of the ball.

Click
Here
to view this Link.
[rl]