Jeters talks UTSA, Arizona loss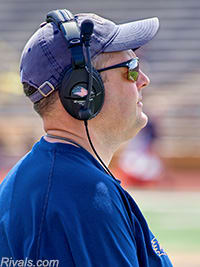 Former Hawk linebacker Jens Jeters arrived on campus as a JUCO transfer from California in the 2013 recruiting class. He played sparingly in 2013 before taking over the position in 2014 when Steven Kurfehs departed. Each week of the football season, we'll be discussing UTSA football with Jeters, a guy who was in the locker room at UTSA and knows the current team really well. He was impressed with UTSA against Arizona, even in a loss.
"We always started game week the same way on defense. Neal Neathery is really big with setting goals for the upcoming game and that starts Sunday. He grades on hustle, if we win the turnover battle and third down efficiency. He feels like if we win those three phases and play like the tougher team we'll put our offense in great shape to win the game," Jeters said. "I thought UTSA did that really well against Arizona, but turnovers and a few mistakes on special teams and a penalty on that kick return for a touchdown hurt."
UTSA runs a 4-2-5 defense, which is becoming more popular at the college level, but is still an adjustment for incoming players.
"It can be used as a multiple defense," said Jeters of Neathery's scheme. "You can run a lot of different coverages out of it and blitz schemes. The Dawg safety position is a hybrid spot, much like the Seattle Seahawks use Kam Chancellor. You need a big guy who can support the run but can also play in space. The Hawk position is relatively similar, but it is more of a traditional linebacker position in some ways. It still requires a guy to be good in space. The biggest challenge in learning the position is you play more outside-in than you would as a Mike linebacker, which is what I was used to and what Marcos Curry played in high school."
Being that Curry is now the man playing his old position, Jeters had observations about the young linebacker.
"I think he is a really good player. When he first got on campus he overthought things too much and I'd always tell him to just play football and not worry about all the other stuff. He's picked it up quick and he just started to play football. He did a great job against Arizona," he said. "You're going to be in the box the majority of the time at Hawk, but you also need to spread outside against teams with multiple wide receiver sets, and Curry has the athleticism to do that and then spill running plays towards the Mike linebacker and Rover safety. Setting that edge is the most important part against the run."
Jeters practiced against last year's offense, but watched the new up-tempo offense this spring and against Arizona.
"As a fan, it is much more exciting to watch. We had some injuries on that side of the ball that hurt us last season. The thing that stood out to me was that we complimented our pass game with a strong running game. Jarveon Williams and Jalen Rhodes played really well, and Tyrell Clay deserved that scholarship. He killed it this spring and even on scout team last season. That trio will really help our offense and that up-tempo offense spreads teams out and allows space for running backs to work. It really clears out the box and gives the offensive line a chance."
One of the main differences he saw against Arizona was the play of the offensive line, and Jeters contributes that to the new offensive philosophy.
"We're not the biggest offensive line and this offense erases that disadvantage because you only need to block for three seconds or so. It emphasizes angles and movement instead of brute force, which works well with the guys we have there now," Jeters pointed out. "I was impressed with the communication the group showed picking up blitzes and when Juan Perez comes back that should improve even more. If you look at up-tempo offenses around the country like Oregon, they don't use huge offensive linemen. They're leaner and more athletic. I think that fits our personnel so much better than what we tried to do last season."
As a guy who came in after the 2012 season, Jeters had great perspective on the influx of talent UTSA added throughout the last few recruiting classes.
"The 2013 class was bunch of studs. The older guys played a lot of snaps and had more experience, but it was clear these new guys were going to be more athletic and better football players once they figured out what to do on defense," he said. "Even a guy like Jalen Rhodes before his foot injury in the spring of 2014 showed he'd be special. I remember all of us on defense thinking he'd be a problem for us in practice before he got hurt. They're just a different level of athlete and that is because we could recruit better than when the program just started. You can't coach speed and we have that all over the field now. It is exciting to watch."
I was able to get his thoughts on a few players on defense.
Drew Douglas: "He's smart. Maybe the smartest football player I've ever played with. He would be as knowledgeable as the opposing quarterback. He knows where to be in the right situations. He's never in the wrong spot and that puts him in great position to disrupt a passing lane or rally to the ball on a broken play. He's a great team player and knows where to funnel a play if he can't make a tackle."
Michael Egwuagu: "He made an impression on us right away. I think the first or second play of our first scrimmage in 2013 he set an edge on a starting wide receiver and blew up David Glasco for a loss. The whole defense went nuts because he did it on pure instinct. He hadn't even learned what to do yet. He just did it and that was impressive to me. Larry Coker allows for us to play with freedom and Mike is one of those guys that just makes plays. We saw it as a true freshman and he's grown so much since there. He's a perfect fit for that position."
Mauricio Sanchez: "The groin injury really hurt him and he took a while to come back. He had some rust last season, but he's an effort guy who will throw his body around. The thing with him was mental, but you can see he really worked on that and caught up now that he is healthy. A big part of that is coach Eliano. He's a great secondary coach and I learned a lot from him. He tells you like it is and as players we want that honesty from a coach. I want to know what the coaches want and what they don't like. He does a great job of communicating that with everyone and that makes our job easier."
Nate Gaines: "He has big shoes to fill taking over for Triston Wade, but they're very similar. He's taller and longer than T-Wade, but he is a slender guy just like T-Wade. Both of those guys throw every ounce of weight into tackles and will light you up. You can tell he has the trust of the coaches. He'll keep improving with more experience."
David Morgan II: He's healthy and that is scary for everyone. His hands are so big that if he gets them on a ball it is his. He has good speed, but he gets open with his route-running and a great understanding of how to use his big body to shield defenders. He's a mismatch against everyone in the red-zone. We saw that against Arizona. I've never seen anyone be able to stop him 1-on-1 with that fade route if the ball is thrown up the right way. He'll win those battles."

Click
Here
to view this Link.
[rl]